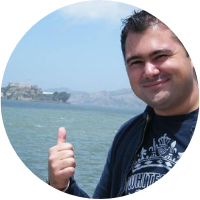 Systems Engineer Manager | FORTINET
Madalin Vasile is a network and security specialist with more than 15 years of relevant experience. He joined Fortinet in 2011 as a Presales Systems Engineer and is supporting Romania, Balkans and Adriatic region. As part of the Fortinet team, Madalin designed and influenced security solutions for Datacenter, ISP, webhosting and complex networks covering different technologies like Next Generation Firewall, UTM, VPN, anti-DDoS, web application firewall, authentication and more.
Cloud Security - Secure your Public Cloud, Private Cloud and SaaS with Fortinet
In this session, we will explain how you can use Fortinet solutions to implement the same level of security for your cloud infrastructure, as for your physical one.
When moving to the cloud, the security should not be neglected but should be enforced at least at the same level as the one inside your existing network.
By using Fortinet Security Fabric, the companies can now easier identify threats, correlate threat vector and react faster to security incidents.
Participation at the Cloud Conference is free, based on prior registration.